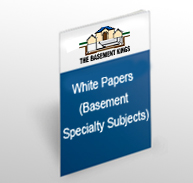 White Papers in this section are all download- able copies in a (PDF) format – $7 each
This section includes white papers about subjects you have never heard of before in any text:
Basement clean air scrubbers.

New innovations to prevent radon gas.

New basement septic systems that don't require power or ever need to be serviced.

Basement innovative lighting which is water proof, require less power and does not get hot.

What is a green basement and how to build it cheaper than a conventional basement?

Building the ultimate green basement which requires little or no power to cool.

Geothermal basement cooling systems.

Basement elevators – They are not expensive any more for residential homes.

Warning! A contractor or subcontractor can steal your basement home legally.

How to save money building a basement home.

Two methods of installing French drain system without using costly gravel.

Many more white papers to come.
Our use of "white papers" is for the sole purpose of condensing highly technical information, scientific drawings and simplifying them into easily understood concepts.  In some cases simple illustrations explain a subject better than cliff notes and in some of our white papers we use them all.  Our white papers sprung from 3 generations of concrete professionals who have proven that commercial technologies can be applied to basements in a cost effective way.  Our methods are not theoretical but practical and have been used for many over 30 years in some cases.