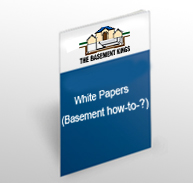 White Papers in this section are all download- able copies in a (PDF) format – $7 each
How PH can ruin any basement repair job.

How to test basement wall strength & hardness.

How to save money building a basement.

How to inspect a basement and what to look for.

How to install a French drain without using gravel.

What you need to install a basement generator.

Reading your blue prints and what's important

Calculate the advantages of having a basement.

How a contractor can steal your home legally.

How Building a basement in a flood zone is done.
Have you ever wondered where to find anything new about basements? Well now you have found it.  When people talk about basements they speak in old technology terms.  The world of basements has changed dramatically in the last 30 years and so has The Basement Kings.  With the success from our first book we have received letters and E-mails requesting a shorter version of our "Definitive Book About Basements".  We have decided to fill those requests for shorter versions of our book and many other basement topics in the form of white papers.
In common language, "white papers" are like reading the condensed version of cliff notes to a long winded book that is difficult to read.  They are usually written in technical terms by industry professionals covering a single subject which targets key points and highlight important areas that you need to understand most.  They are derived from personal experience, scientific study and extended research, which in our case, was carried out extensively in the field.